Medhu vadai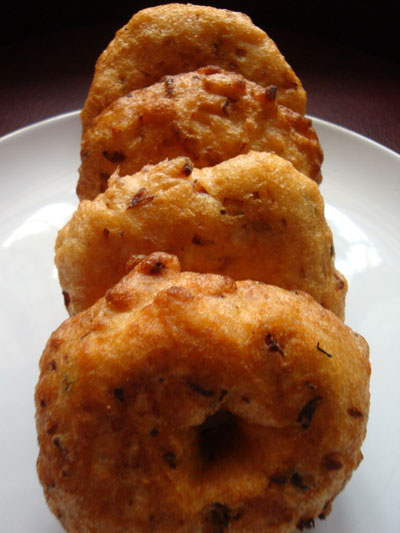 Ingredients:
Urad dal - 1 cup
Raw rice - 50gms
Potato
( b
oiled,
peeled and smashed) - 1 no (medium size)
Onion - 1 no (finely chopped)
Green chillies 2 nos
(finely chopped)
Ginger pieces - 1 tsp
Jeera - 1 tbs
pepper - 1 tbs (crushed)
Cashew - 10 nos (Roasted and halved)
Curry and coriander leaves - a handfull(chopped)
Salt to taste
Oil to deep fry.
Method:
Soak rice and urad dal for 45 minutes seperately. Drain the urad dal and rice.
Grind rice and urad dal seperately without adding water.
In tight condition pour a handfull water and grind nicely.
Add onion , green chillies, ginger pieces, salt ,cashews,
crushed pepper,
jeera, mashed potato ,
chopped curry and coriander leaves.
Mix well with the dough.
Purpose of adding the boiled potato is to get crispyness in the outside of the vadai ,
and softness in the inside of the vadai.
In a thick bottomed pan put oil and heat at medium flame.
Put one curry leaf in the oil , the leaf could become fried and tempered.
This is the frying condition of the oil.
Now put the dough in a plantain leaf and flattened it ,
put a hole in the middle of the vadai and put it in the oil slowly.
After one side comes crispy , turn it to the other side.
When bothsides get crispy, take from the oil and
put them in a tissue paper to absorb the extra oil in the vadai.
Serve with coconut chutney and tomato sauce.